Platform Builder forums
Sat Jun 09, 2018 9:15 pm by Alju5
Dear members! I am not active with Mario Builder nor it's forums anymore although I still view some activity here sometimes. This is because of the need to choose some activities from all ones in ridiculously limited time. Good things are that I spend more time on something that has been created by the same creator as for Mario Builder. This is Platform Builder and it's own forum.
To be all …
Comments: 0
Mario Builder V11 is OUT!
Sat Jan 14, 2012 6:24 am by Pixel Turtle
Mario Builder V11 -
-Many kinds of enemies can be placed ontop of a pipe opening. This will cause them to continually spawn from that pipe.
-Added an invisible text block
-Added the pink piranha plant by Alju5 through the engine challenge
-Added the ice bro by lukasmah through the engine challenge
-Added Ice bro to the overworld
-Boom Boom and Koopalings must take multiple shots …
Comments: 0

My new project "Luigi's Adventure" called SMB1, SMB2, SMB3, SMW, YI same world's redesigned!!!!!
Contains of game full version!
9 worlds
? exits (in progress)
Artwork: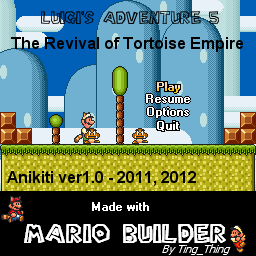 Worlds:
World 1 [10%]
World 2
World 3
World 4
World 5
World 6
World 7
World 8
World 9
Coming soon in final release in 2012!

Sorry, the project current on hiatus!
Last edited by Xeon E7-9300 on Sat Jan 21, 2012 1:38 pm; edited 1 time in total
change log:
ver0.19a

Added tilesets for SMW!
Welcome here, Xeon E7-9300!

Your game seems to be very beautiful and good but I can give my real comment and rating only then if I get a download link to test your game.
As I mentioned your game really seems to be interesting so I wait to play it and I am glad to see one more Mario Builder game again.


_________________
Alley (T_Alj5)


Similar topics
---
Permissions in this forum:
You
cannot
reply to topics in this forum